Tzurba Hilchot Shabbat Program
Master Hilchot Shabbat with Tzurba M'Rabanan
Start learning today with Tzurba's signature style and finish all of Hilchot Shabbat in just 2 years
Volume 16 is the first of seven Hilchot Shabbat volumes from Tzurba M'Rabanan
All chaburot and individual learners will have access to optional tests, pacing, and official certificates of completion
Individuals:

 Learn along on your own with Rabbi Shalom Rosner, Tzurba Maggid Shiur. Rabbi Rosner will be giving a weekly shiur on Tzurba 

Hilchot

 

Shabbat

 available on all streaming platforms.
Chaburot/Shiurim:

 Join the 

program

 and start a Tzurba chabura in your shul or community. Secure a Maggid Shiur, gather your peers, and let us know!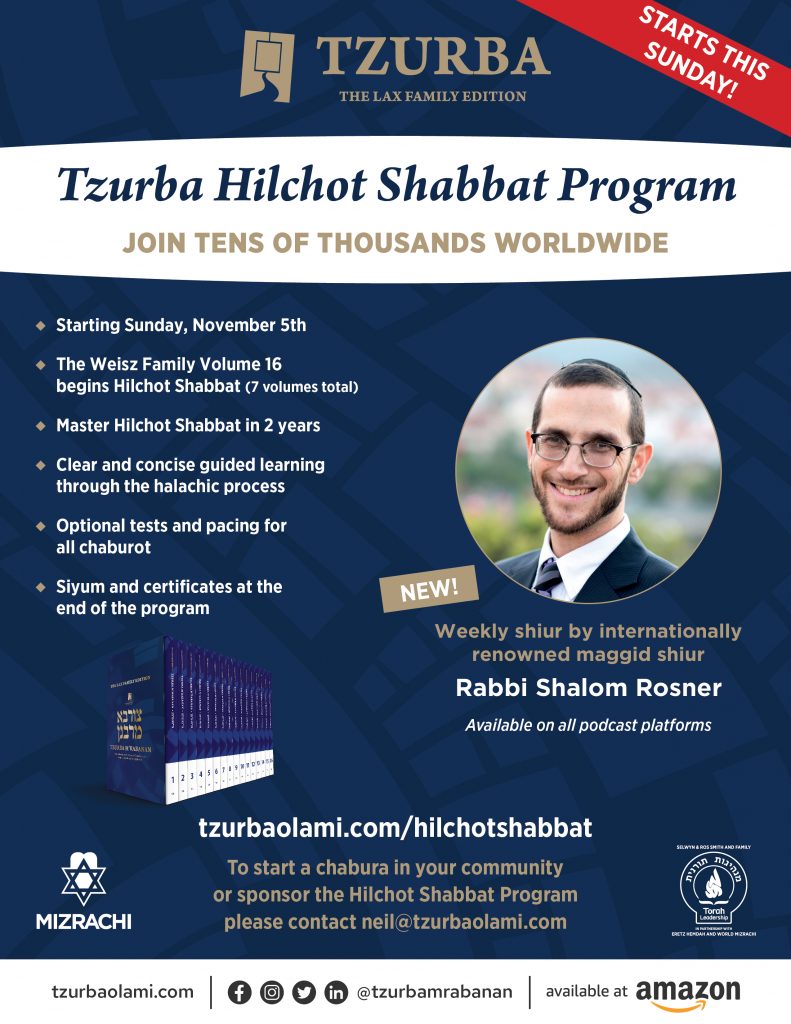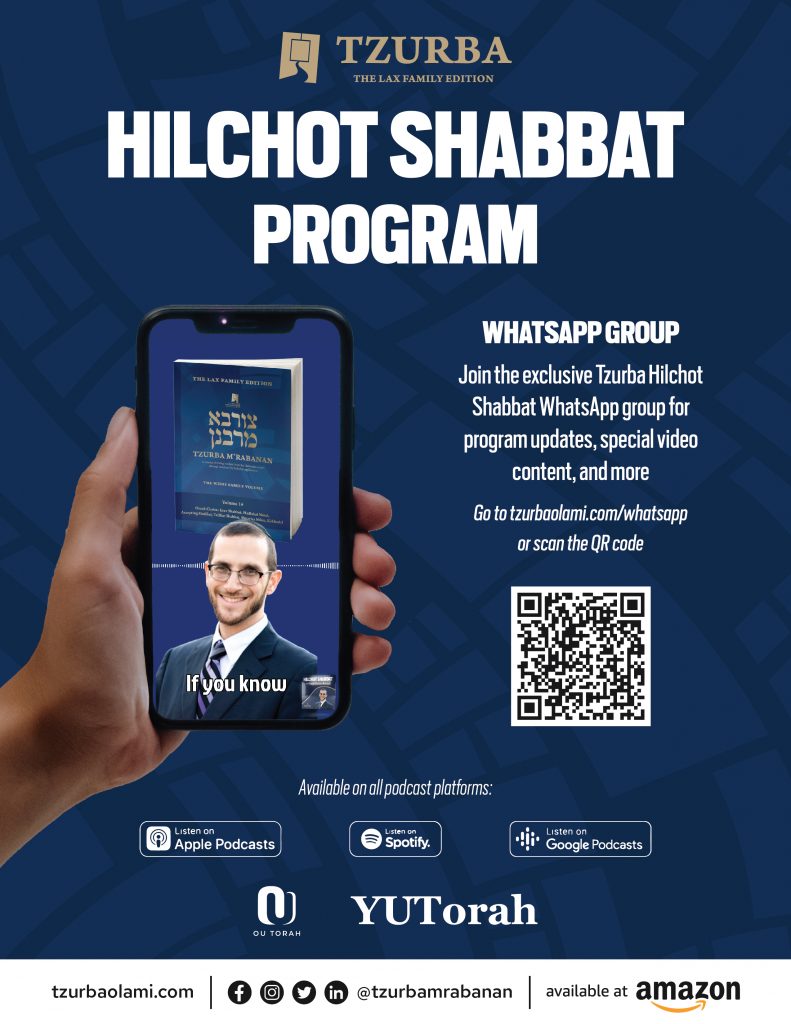 WHATSAPP GROUP
Join the exclusive Tzurba Hilchot Shabbat WhatsApp group for program updates, special video content, and more
Volume 16 is now available for purchase
Hilchot Shabbat Program Chaburas
Participating communities will be announced soon
Stay tuned and join today!
Join thousands of learners worldwide!
United Sates
Aleksander Shul, University Heights, OH
Anshe Chesed of Linden, Linden, NJ
Anshei Emunah, Delray Beach, FL
Beit Chaverim Synagogue, Westport, CT
Birkat Eliyahu, Bayswater, NY
Boca Jewish Center, Boca Raton, FL
Boca Raton Synagogue, Boca Raton, FL
Brith Sholom Beth Israel Synagogue, Charleston, SC
Bukharian Jewish Congregation, Jamaica, NY
Chabad of the North Peninsula, San Mateo, CA
Chabad of Rockville, Rockville, MD
Congregation AABJ&D, West Orange, NJ
Congregation Agudath Achim, Bradley Beach, NJ
Congregation Agudath Sholom, Stamford, CT
Congregation Ahavat Achim, Fairlawn, NJ
Congregation Bnai Yeshurun, Teaneck, NJ
Congregation Darchei Noam, St. Louis Park, MN
Congregation Keter Torah, Teaneck, NJ
Congregation KINS, Chicago, IL
Congregation Od Yosef Chai, Flushing, NY
Congregation Ohab Zedek, New York, NY
Congregation Ohr HaTorah, Atlanta, GA
Congregation Shaarei Tefillah, Newton, MA
Congregation Sons of Israel, Cherry Hill, NJ
Fasman Yeshiva High School, Skokie, IL
Hancock Park, Los Angeles, CA
Harvard Hillel, Cambridge, MA
Hollywood Torah Center, Fort Lauderdale, FL
JewishROC, Rockville, MD
Kehilat Ohr Tzion, Bufallo, NY
Kehilat Pardes, Rockville, MD
Kehillas Beis Sholom, Clifton, NJ
Kehillas Mevaser Tov, East Brunswick, NJ
Keneseth Beth Israel, Richmond, VA
Kesser Israel, Portland, OR
Magen David Sephardic Shul, Surfside, FL
Memphis Kollel, Memphis, TN
Ner Tamid, Baltimore, MD
Nili – YU Torah Mitzion Kollel Chicago, Skokie, IL
OU-JLIC Brandeis, Waltham, MA
OU-JLIC Greater Atlanta Program, Atlanta, GA
OU-JLIC Rutgers, New Brunswick, NJ
Partners Detroit, Southfield, MI
Queens Jewish Center, Forest Hills, NY
Shaare Torah Congregation, Pittsburgh, PA
Silicon Valley, CA, Silicon Valey, CA
The Bayit, Riverdale, NY
Philadelphia Community Kollel, Merion Station, PA
The White Shul, Far Rockaway, NY
Young Israel of Elkins Park, Elkins Park, PA
Young Israel of Fort Lee, Fort Lee, NJ
Young Israel of Hillcrest, Queens, NY
Young Israel of Northridge, Northridge, CA
Young Israel of Oceanside, Oceanside, NY
Young Israel of West Hartford, West Hartford, CT
Young Israel of West Hempstead, WH, NY
Young Israel of Woodmere, Woodmere, NY
Canada
Beit Medrash Zichron Dov, Toronto
Kollel Torah MiTzion Montreal, Montreal
Or Chaim Minyan, Toronto
Shomrai Shabbos, Toronto
The BAYT, Toronto
Israel
Beit Knesset Hanassi, Rehavia
Beit Knesset Mercazi, Neve Daniel
Beit Knesset Mevaser Tzion, Tel Mond
World Mizrachi, Jerusalem
Australia
Jewish Learning Centre, Sydney
Mizrachi Melbourne, Melbourne
Mizrachi Perth, Perth
South Africa
Yeshiva Mizrachi Campus, Johannesburg
United Kingdom
Belmont United Synagogue, Stanmore
Shrubberies Shul, Manchester
The Habura, London
Participating Schools 2023-24
Bnei Akiva Schools of Toronto
Robert M. Beren Academy
YUHSG Central
Epstein Hebrew Academy
Hebrew Academy of Nassau County
RASG Hebrew Academy
Ida Crown Jewish Academy
Katz Yeshiva High School – Ma'ayanot Yeshiva High School for Girls
Ohr HaTorah Yeshiva
SAR High School
Torah Academy of Bergen County
Westchester Day School
And thousands of individual learners across the world